Online and offline commerce and customer
We are looking for companies that can incorporate the latest technologies in the market, both offline and online, within the Mango value chain, in order to maximise the shopping experience of the company's customers.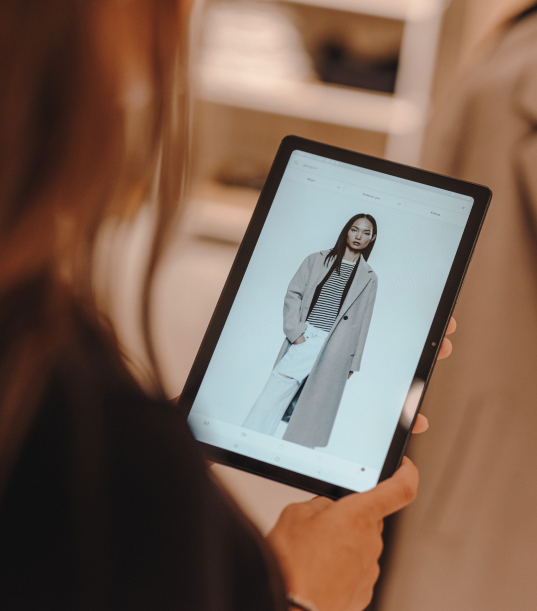 Applied technologies
Virtual/mixed/augmented reality
Artificial Intelligence and Machine Learning
Metaverse, NFTs and Blockchain
Virtual fitting rooms
New forms of traffic identification and on and off activity
3D design
Virtual Fitting
Digital transformation of materials and fabrics
Design and Product
We are looking for start-ups able to contribute to the digital transformation of the Mango production chain, by incorporating innovative solutions that can optimise the company's design processes, with excellent quality standards and competitive times within the fashion industry.
Applied technologies
Environmentally-friendly fabrics
Reduced emissions throughout the value chain
Materials for sustainable packaging
Sustainability
Sustainability is one of the strategic areas of Mango StartUp Studio. Within the acceleration programme, we are looking for companies willing to change the fashion industry and make it more sustainable every day, by providing solutions that help reduce the impact of Mango and the fashion sector on the planet.
Applied technologies
Circularity of garments and fabrics
Digital Passport
Integration with suppliers and partners
Intralogistics for the automation of operations
Last-mile delivery and collection
Sourcing & Operations
We are looking for start-ups able to improve the logistics and provisioning of the fashion industry. Guarantee the best service, with control and visibility of the entire value chain, from source to the final customer, achieving excellence in operations.
Applied technologies
Fleet management
Intelligence for demand forecasting
RFID technology applications
Tools for identifying the best talent
Professional development tools
Integrated HR software
People
People are the driving force of any company. At Mango StartUp Studio we are looking for companies able to offer a unique experience to all the people that make up Mango, by improving the identification, attraction and capture of talent and by fostering their professional and human development in an optimal and differential manner.
Applied technologies
Metaverse
Digital and non-digital HR solutions
Softwares integrados de HR
Metaverso
Soluciones HR digitales y no digitales